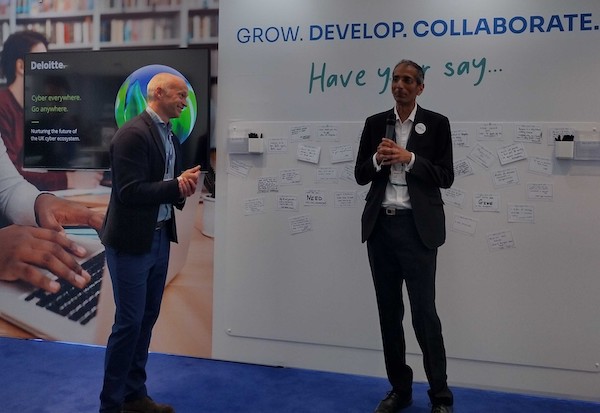 CyBOK attend the Cyber UK 2022 conference
Published: 20 May 2022, 12:51 p.m.
CyBOK was delighted to be invited to exhibit at the Cyber UK 2022 conference at the International Conference Centre in Newport, South Wales from the 10-11th May. Cyber UK is the National Cyber Security Centre's flagship event and was attended by more than 1500 delegates, integrating cyber security leaders with technical professionals, strengthening the cyber security community. It provides a key opportunity for the whole cyber security community to reconnect, discuss business needs and review the changing threat landscape.
CyBOK were based within the newly created Cyber Ecosystem Zone, which brought together key stakeholders, success stories, and partners for bite-sized talks, presentations and videos on Trust, Partnership, Innovation, Talent, Resilience and Growth. The CyBOK team enjoyed some engaging conversations with visitors to the stand, from those who were new to CyBOK to those who were already familiar with the project.
Professor Awais Rashid, Head of Cyber Security Group at the University of Bristol and CyBOK Principal Investigator, took part in a discussion on 'Cyber everywhere, go anywhere: nurturing the future of the UK cyber ecosystem' with Stephen Wray of Deloitte UK.
CEO of the UK Cyber Security Council Simon Hepburn also spoke about the importance of mapping training courses to CyBOK and engaging with the Council. You can watch the video of the plenary here.