About CyBOK
An increasing political, societal and economic concern, cyber attacks cost an estimated $400 billion (according to Lloyds) to global economies. The scale of the issue was further highlighted recently when the Bulletin of the Atomic Scientists factored cyber attacks into their decision to move the symbolic Doomsday Clock closer to midnight.
However, there is a long-recognised skills gap within the cyber security sector, an issue that experts agree is compounded by a fragmented and incoherent foundational knowledge for this relatively immature field.
Mature scientific disciplines, such as mathematics, physics, chemistry and biology have long-established foundational knowledge and clear learning steps from pupils studying GCSEs at secondary school to undergraduate degrees at university, and beyond.
Aims of the CyBOK project
The overall aim of the CyBOK project is to codify the foundational and generally recognised knowledge in the expanding area of cyber security following a broad community engagement with the UK and internationally. The knowledge will be augmented with additional data, in particular concerning the knowledge dependancies for particular learning pathways.
The structure of the project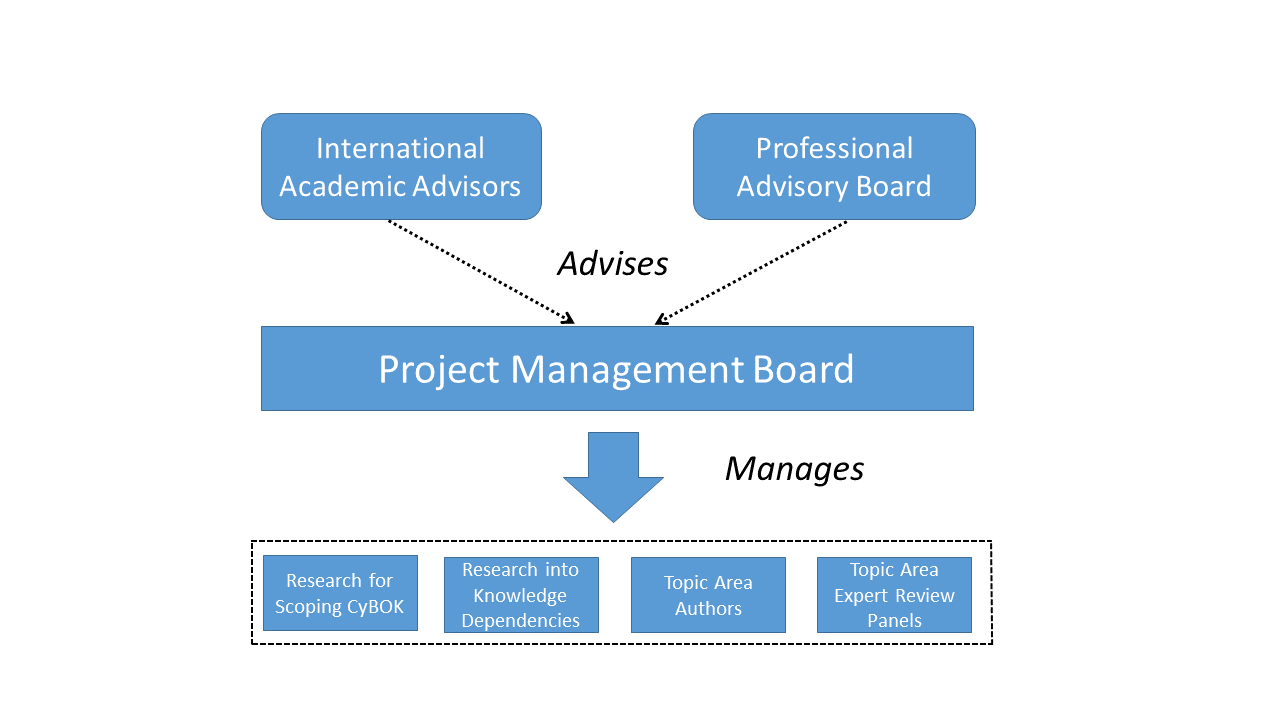 The progress of the project and work undertaken will be overseen by the Project Management Board which comprises the principal investigator, the co-investigators and the project manager. The project will be reviewed and advised by two separate boards: the Professional Advisory Board and the Academic Advisory Board.
The Professional Advisory Board will act to review and provide input to the Project Management Board on the overall progress and strategic development of the project with regards to the cyber security profession.
The Academic Advisory Board will provide advice to the Project Management Board on all academic aspects of the project and act as a critical sounding board.
Project Management Board
Professional Advisory Board
International Academic Advisors