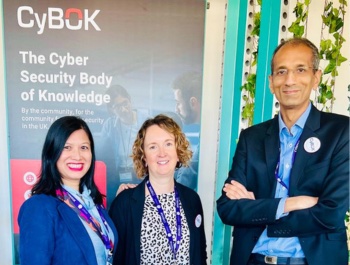 CyBOK attend the Cyber UK 2023 conference
Published: 27 Apr 2023, 3:02 p.m.
CyBOK was delighted to be invited to exhibit at the Cyber UK 2023 conference at the International Conference Centre in Belfast, Northern Ireland on 19-20 April.
Cyber UK is the National Cyber Security Centre's (NCSC) flagship event, integrating cyber security leaders with technical professionals, strengthening the cyber security community. It provides a key opportunity for the whole cyber security community to reconnect, discuss business needs and review the changing threat landscape. The theme for this year's conference was securing an open and resilient digital future.
CyBOK were based within the Cyber Ecosystem Zone, alongside other key stakeholders including the UK Cyber Security Council. The CyBOK team enjoyed some engaging conversations with visitors to the stand, from those who were new to CyBOK to those who were already familiar with the project. The team also handed out the latest version of Mappings of University and Professional Training Programmes to CyBOK.
Professor Awais Rashid, Head of Cyber Security Group at the University of Bristol and CyBOK Principal Investigator, gave a talk on 'Building the foundations of the cyber eco-system with CyBOK' in the Deloitte UK Speaking Corner.