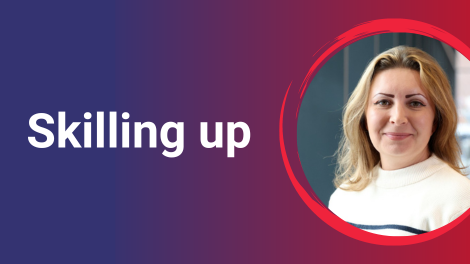 Skilling up: How CyBOK fuels the talent pipeline that serves the cyber ecosystem and the public interest
Published: 31 Mar 2023, 12:36 p.m.
Although still in its infancy, cyber security is a dynamic field that is undoubtedly one of the most universally relevant. Whether we are consciously aware of it or not, it affects us all – which is why cataloguing the most robust, informative and inspiring knowledge matters. This is the core objective of CyBOK, which provides the underpinning framework for degree courses and simultaneously supports recruiters in the cyber security sector to be at the top of their game. Dr Yulia Cherdantseva is a passionate advocate of raising awareness around cyber security across all sectors and generations. She has presented CyBOK at conferences, workshops and universities across the world, from Canada and Europe to Mexico, helping to ensure that the project's body of knowledge spreads far and wide.
CyBOK has reached thousands of people across the world, bringing benefits for students, employers and certification bodies. What do you think makes it so valuable and so popular?
There is very rigorous and transparent process behind how CyBOK was developed from its early stages in 2017 through to the present iteration of the Knowledge Areas at its heart. Drawing on the expertise of an international community of academics and serving a global audience, CyBOK is built by the community, for the community. We received over 1,500 comments from cyber security experts in response to our resources. All of that shapes how we develop and deliver the body of knowledge in a way that meets the needs of the cyber security community, whether they work in academia, are studying, or are seeking to recruit cyber security experts and want to know what criteria they should specify.
The fact that it's our community that monitors our processes adds an important level of trust – we address every request, we document every decision, and we clearly communicate our responses.
Our key objective is to make our resources freely accessible and readily available. A lot of effort goes into this by the CyBOK team, I find it amazing that such a resource is available to the whole world and I think that's what makes it unique. There is no Intellectual Property barrier; this is work that academics and practitioners have come together to produce, with a deliberate focus on enabling it to reach as many people as possible.
You've spoken previously about the universal importance of cyber security. Why do you think it matters so much?
Cyber security is a very dynamic field, it's also a discipline that's in its infancy, so CyBOK is an important pioneer in trying to define the discipline. That's why we take an agile and responsive approach to ensuring it remains up to date – the information we provide needs to align with changes in the sector. Digital is here to stay. We all need to be prepared and equipped for this world. One of the skills we all need is understanding the importance of online safety. Everything that we do is underpinned by cyber security – banking, online shopping, education, social media communication – we only do that because we know it's safe and secure. You may not see it but cyber security is always there. Subconsciously, we know it gives us the trust we need to go about our lives. Security doesn't exist for its own sake. It exists to support all digital products and innovations. Yet it plays a critical role in our lives.
As a lecturer and course leader, you've used CyBOK as a teaching aid, to design and certify your programmes with the National Cyber Security Council (NCSC). Tell us how that process works.
Before I joined CyBOK my main interaction was as the programme lead at Cardiff University for the MSc in Cyber Security and the MSc in Cyber Security and Technology. CyBOK was an immensely valuable tool as it allowed us to identify what topics we ought to cover in each of those programmes. We already had a sense of direction from industry in terms of which knowledge areas it would be pertinent to cover. CyBOK then helped guide us to ensure the curriculum would be broad and comprehensive.
Every module was mapped against CyBOK, which helped to give us a very detailed picture of the whole course. That in turn revealed where the overlaps lay, say where two modules covered the same subject albeit in different contexts. Crucially, we were able to check if we were assessing students on the same concept twice in different modules, and to then either refine or diversify our approach in a way that - added value.
When we were putting together the - teaching teams for both courses, CyBOK was again very useful as we could tell which areas of expertise we needed to recruit from.
What makes CyBOK so uniquely valuable to the student experience?
There are over 1,000 pages in the body of knowledge, which in a sense can be quite intimidating! But that richness of detail means that people can be confident in focusing on what they need, there is no requirement for anyone to read all of it. The supplementary material associated with each Knowledge Area also meets experts and novices where they are – whether you prefer to engage with the material in written, audio or video form, you will find what you need in a format that suits you.
How does the robust framework and insight lent by CyBOK to students' education serve their career prospects?
We provide a comprehensive outline of how degree programmes are mapped against the CyBOK areas of expertise. By looking at the specifics of each programme and the specialisms they address, students can see which professional connections might follow, whether they're interested in ethical hacking, systems engineering, security engineering, or anything else.
When students go on to apply for jobs, they can see by checking their understanding against our guide which areas they are versed in and what they might be missing. That allows them to then find some professional training to fill their knowledge gaps, or find an opportunity that matches their education. The same resource is available for professional certification training, where courses are similarly mapped against CyBOK and so lend the same level of transparency and guidance. Recruitment processes and practitioners can rely on it in the same way – when they need to recruit people with particular skills, they can use the CyBOK taxonomy to communicate with a recruitment company or HR company exactly what they are looking for.
How do you see the future of cyber security and what role might CyBOK play in that?
As a nation, there is an ongoing issue with a skills shortage in cyber security. Communicating with younger people what cyber security is and what roles they might wish to pursue is something that goes beyond the remit of CyBOK but it's something that we can contribute to, by providing a tool that can inspire and inform people's needs and aspirations.
We recently appointed two CyBOK industry champions who have a detailed understanding of the requirements of the cyber profession and are able to relay how by providing tailored resources CyBOK can support their needs. The outreach work we do, engaging with different communities, is also critical to demystifying cyber security and eventually attracting more people into the profession. We all need to know about our rights, the dangers of sharing sensitive information, and how our data is used; irrespective of interest this is something that impacts us all. CyBOK is a vital component in the whole cyber ecosystem, and with its international reach, it has the scope to move us forward with the skill and talent the world needs.
Dr Yulia Cherdantseva is a member of the Executive/Editorial Board for CyBOK. She is the Director of the Academic Centre of Excellence in Cyber Security Education at - Cardiff University.