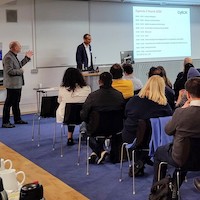 Building collaborative communities at CyBOK in-person showcase event
Published: 3 Mar 2022, 2:45 p.m.
A CyBOK showcase event took place on the morning of 2 March 2022 at the Ashmolean Museum in Oxford. After two years of online and hybrid events, it was a delight to welcome around 50 delegates from academia, government and a range of industry organisations.
The event was chaired by Andrew Martin, Professor of Systems Security, University of Oxford and member of the CyBOK Executive Board.
Delegates enjoyed a variety of presentations and heard the latest CyBOK updates and future plans, including an update from the UK Cyber Security Council on its plans to work with CyBOK. Awais Rashid, Professor of Cyber Security, University of Bristol and Simon Hepburn, CEO, UK Cyber Security Council welcomed questions from delegates about CyBOK and the Council. The second half of the event featured an overview of recent work to understand the knowledge profile of an organisation using CyBOK, and a series of short presentations from CyBOK-funded small projects to develop resources around CyBOK v1.1.
Attendees appreciated the opportunity to give feedback on the project in-person, posed many insightful questions to the presenters and there was a great buzz of conversation during the breaks for networking and refreshments.
The event was not recorded; presentation slides are linked in the agenda below.
Event agenda
CyBOK: An update and future plans Awais Rashid, Professor of Cyber Security, University of Bristol
The UK Cyber Security Council & CyBOK Simon Hepburn, CEO, UK Cyber Security Council
Q&A panel with Awais Rashid and Simon Hepburn
Understanding the knowledge profile of an organisation using CyBOK Awais Rashid and Lata Nautiyal, Research Associate, University of Bristol
Presentations from CyBOK-funded projects to develop new resources around CyBOK v1.1:
Phase 2 Open Source CyBOK Practical Challenges and Learning Resources Z. Cliffe Schreuders, Leeds Beckett University
Mapping of cybersecurity games onto CyBOK Joseph Hallett, University of Bristol
Developing redistributable practical materials for Formal Methods in Security Martin Lester, University of Reading
Learning together - Cybersecurity for toddlers Elizabeth Quaglia, Royal Holloway, University of London
Added Case Studies for CyBOK 1.1 and Report on Classroom Usage Bastian Tenbergen, State University of New York at Oswego
Visualising CyBOK References Mitch Harle, Uncommon Correlation
Develop pedagogical practices to support active and engaging practices in Forensics Education Joseph Maguire, University of Glasgow
Secure Coding Game-based Lab Sheung Chi Chan, Heriot-Watt University
Andrew Martin introduces Awais Rashid to delegates at the event