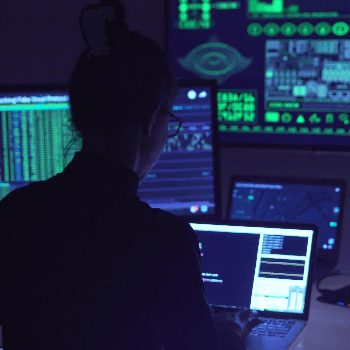 Success at the CyBOK in Practice virtual showcase event 2 March
Published: 16 Mar 2021, 4:18 p.m.
The CyBOK in Practice virtual showcase event took place on the afternoon of 2 March and was a resounding success, with over 200 attendees. Delegates came from academia, government and other public sector organisations including the NHS and law enforcement, as well as a from a wide range of educational and training bodies, industry, IT firms, consultancies and financial institutions.
The event was chaired by Professor Steve Schneider, Director of the Surrey Centre for Cyber Security and a member of the CyBOK Executive Board. Delegates enjoyed a variety of presentations, including several CyBOK use cases to highlight how CyBOK can be used in both the professional and academic community. It was not possible to record the event, but where permission has been received to share presentations, these are linked in the agenda below.
The event was hosted on Slido, meaning delegates could post questions for speakers to address. The audience was well-engaged, with around 80 questions and comments arising from speakers' content; the word cloud below shows the common words from the interactions.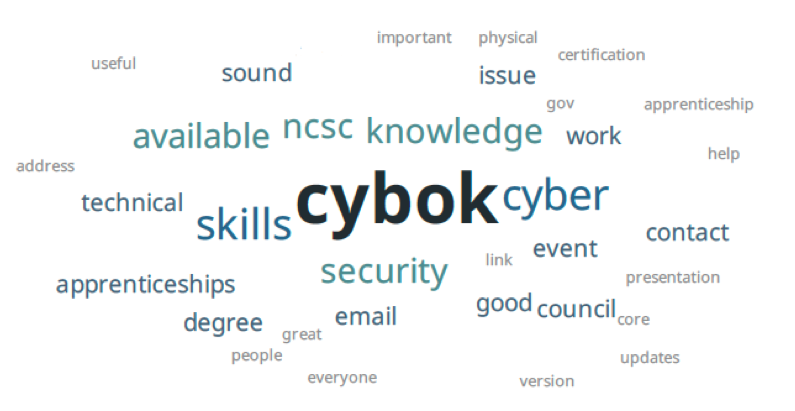 General themes in the questions and comments included certification and training, the UK Cyber Security Council and Careers Framework, incident response, and CyBOK and the future. Following the interest in these areas and the success of this event, further events are being planned for 2021, so watch this space for more details.
Event agenda including presentations where available
Awais Rashid, Professor of Cyber Security, University of Bristol, PI and Editor-in-Chief of CyBOK
CyBOK use cases
UK Cyber Security Council and CyBOK
Roddy Hallifax, UK Cyber Security Council Formation Project
Showcase of recently funded projects to develop resources around CyBOK 1.0
Incident response case study
Nathan G and Conor H, National Cyber Security Centre
Awais Rashid, University of Bristol and Howard Chivers, University of York (both members of CyBOK Executive Board; reflecting on the knowledge areas relevant to the case study presented)
Awais Rashid, Professor of Cyber Security, University of Bristol